16.11.2020_________
November 17 is International Students' Day
On the occasion of International Students' Day, the staff of Oles Honchar Scientific Library heartily congratulate our dear students! We wish you success in science, creativity, initiatives, good mood, optimism and self-realization! Easy exams and understanding teachers!
This holiday brings together and unites young people from all over the world, because, first of all, it is the day of student solidarity that has no boundaries.
Students from different countries will find a common language with each other, despite language barriers. Student traditions, both serious and funny, are very similar in Kiev, in Dnipro, in Sorbonne and in Oxford. The word "student" is of Latin origin and means the one who is conscientiously engaged in something. And "Gaudeamus" is the Latin name for a cheerful and popular student anthem at all times.
First students appeared with the emergence of universities in Europe. First in Bologna (Italy) in the 1st century, then in Paris (France), Oxford and Cambridge (England). To be a student is to be seen and to be heard, to realize oneself as a talented artist, scientist and to find one's calling. Students were and are the most active part of the youth. They are the ones who confidently defend their rights in society.
The future of Ukraine largely depends on caring attitude of students, on their active participation in social transformations. On the occasion of the Students' Day, the reading room of social sciences and humanities presented an illustrative panorama exhibition: "Modern youth is the future of Ukraine" and a book and magazine exhibition "Good luck to you, student!"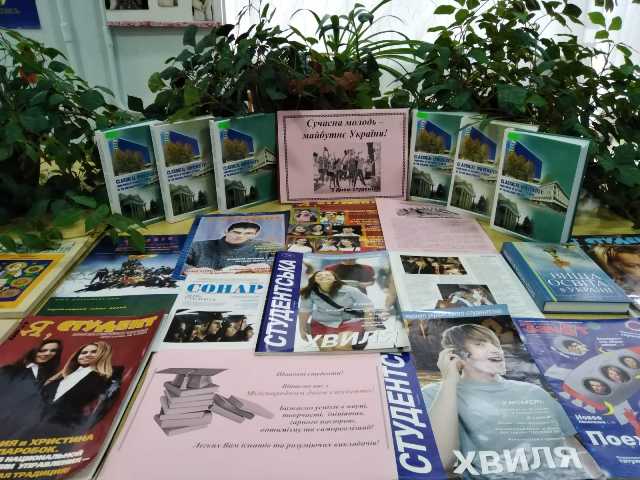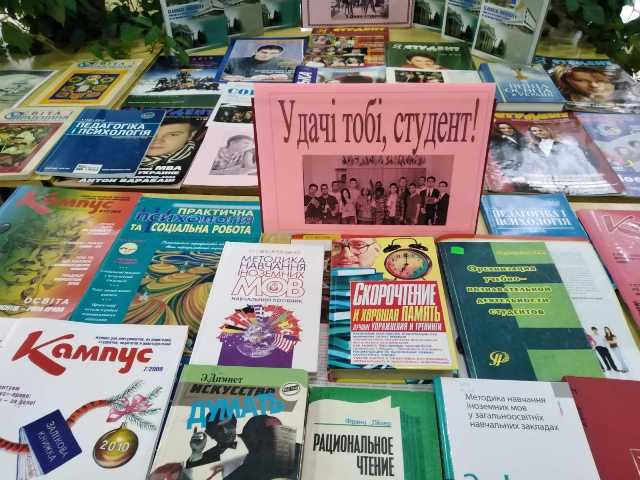 The age of speed and high information technologies requires the ability to perceive, process and accumulate information quickly and efficiently.
The exhibition "Good luck to you, student!" presents books and articles that will help develop memory, speech, reading speed and, most importantly, self-realization skills:

- "Reading speed and good memory: Best exercises";
- "How to learn to read quickly";
- "The Art of Thinking";
- "Methods of teaching foreign languages";
- "Rational reading";
- "Organization of educational and cognitive activities of students" and others.
The material will allow you to receive maximum information with a minimum of time.
We invite you to our library (room 406, 4th floor). Discover new books, learn about interesting facts from history "for students and about students". We wish the student youth success in all good endeavors. Read and get to know the world.
We believe in your happy future!
P.S. Life hack for a student: do not put off your homework until the last moment ...
The exhibition and the material were prepared by A.M. Sukh