---
30.09.2021__________
This year marks the 80th anniversary of the Babiy Yar tragedy.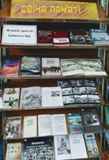 In connection with this anniversary, mourning events will take place on the 6th of October. Babiy Yar is one of the most terrible and most famous symbols of the Holocaust. During the Nazi occupation of Kiev (1941–1943) it became the place of mass executions of civilians by the Nazi occupiers. The first mass execution of Jews in Babiy Yar was carried out by the Nazis on September 29, 1941. And in just two days (on September 29 and 30) more than 30000 people were shot. During the entire occupation about 100000 people were executed (Jews, Gipsies, the Red Army prisoners, psychiatric hospital patients, civilian hostages, Ukrainian nationalists and Soviet partisans, prisoners of the Syrets concentration camp).
In memory of the victims, the library has prepared a book exhibition called "Candle of Memory", which presents books on the history of Kiev and Ukraine, and most importantly - books about those terrible days. Much has been written about the tragedy of Babiy Yar, but the main documents will always be living testimonies of eyewitnesses and those who miraculously managed to survive. The exhibition presents publications by foreign authors such as Dutch historian Karel Berkhoff and German researcher Wendy Lauer, who, relying on German and Soviet archival documents, consider not the political, but the "human" history of survival under the Nazi occupation in Ukraine.
A rarity is a brochure published in 1945 titled "The Crime of the Nazi in Kiev", describing the hardship of the inhabitants of the city and their heroic resistance to the invaders.
А small publication of the Ukrainian Center for the Holocaust Study "Jewish Children of Ukraine - Victims of the Holocaust" will not leave anyone indifferent. The publication is a catalogue of the exposition, which is part of the exhibition "Anna Frank. The lesson of History". The exhibition is on display in 11 cities of Ukraine, including Dnipro. One of the sections of the book is called "Kiev. 1941, Babiy Yar". The eyes of children who will never become adults, whose lives were interrupted too early, look at us from the pages of this book.