06.05.2020_________
GONCHAR'S UNIVERSITY SAVES THE HERITAGE OF THE MASTER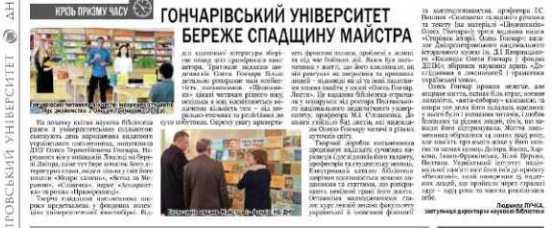 In early April, the scientific library together with the university community celebrate the birthday of a prominent Ukrainian writer, a graduate of Dnipro National University Oles Terentiyovych Honchar. He was born in Cossack Lomivka on the banks of the Dnieper. It is here that his literary fame began, from here his novels "Modry Stone", "Spring of Morava", "Singer", essay "Graduate Student" and the novel "Flag bearers" left for the world.
The creative heritage of the writer is widely represented in the university book collections. The Department of Fiction keeps more than 400 copies of the author's books. The three-volume edition of Oles Honchar's diaries reveals the writer's identity in more detail.
"Diaries" are interesting to readers of all ages, because they cover a huge number of topics - from moral ethical and religious to purely everyday ones. Particular attention is drawn to front-line recordings made in captivity and during hostilities. What was the writer like in life, what worried him, how did he react to people's appeals and requests - the answers to these and other questions can be found in the book "Oles Honchar. Letters». The library received this edition as a gift from the rector of Poltava National Pedagogical University, Professor MI Stepanenko. The book includes 895 letters sent to Oles Honchar by readers from all over the world.
The writer's creative work continues to inspire modern scientists and researchers of his talent, professors and students. The electronic catalog of the library is annually updated with new publications and articles that reveal unknown aspects of his life. The latest were: a course of lectures by the Dean of the Faculty of Ukrainian and Foreign Philology and Art Studies, Professor I.S. Popova "Syntax of a complex sentence and a text" (based on the material of Oles Honchar's "Diaries"); the third edition of the book "Pages of History. Oles Honchar "; catalog of Dmytro Yavornytsky National Historical Museum of Dnipro "Oles Honchar's collection in DNHM funds"; collections of scientific works "Studies in lexicology and grammar of the Ukrainian language".
Oles Honchar lived a difficult but bright life, suffered the pain of losses, military hard times, "anti-cathedral" campaign, but despite all, his fate was happy: he had recognition of readers and love of relatives and friends, a family that always supported him.
The writer's life ended on July 14, 1995, but memory about him lives in his books and in the names of the streets of Dnipro, Kiev, Kharkov, Ivano-Frankivsk, Bila Tserkva and Poltava. The Ukrainian Institute of National Remembrance included his name to in the "Unbreakable" project, which singled out 15 prominent people who went through the terrible years of 1932-1933 and were able to realize themselves..
Lyudmila Luchka, Deputy Director of the Scientific Library