27.02.2019__________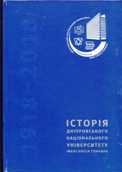 History of Oles Gonchar Dnipro National University, 1918-2018: Collective monograph / Chief editorial board Professor M.V. Polyakov - 5th edition, revised and supplemented.- Dnipro: LIRA, 2018. - 415 p. photo

ISBN 978-966-981-109-7

The collective monograph contains detailed information taken from the primary sources, including archival ones. 10 sections of the jubilee edition reflect the history of the classical university from the end of the 18th century to the present day. A personal index (over 1400 names) and a photo gallery are a valuable addition to the monograph.

It is well illustrated. A wide panorama of university life is presented on its pages. The book will undoubtedly interest students, ethnographers and museum workers. Full text.