23.07.2020_________
Tourist Ukraine: an unexplored country
The routine of our life reinforces the desire to travel. Changing circumstances, getting new impressions from what we saw, we perceive in a different way this bright, original world that surrounds us.
      The reading room of social sciences and humanities offers an illustrative exhibition: "Tourist Ukraine: an unexplored country to your attention. We hope it will interest you and you will be able to go on a virtual trip with the picturesque landscapes of Ukraine, where there are many truly unique places where you can spend your summer vacation.
      The pearls of Ukrainian nature will give you a lot of impressions: picturesque mountain ranges of the Carpathians, steppes of Askania-Novaya, parks "Sofiyivka" (Uman), "Alexandria" and others.
      The high-mountainous Synevyr lake, the valley of daffodils (a unique botanical reserve), the longest cave in Ukraine, which is called "Optimistic" and is located in Podolia, will surprise with its beauty. It is a gypsum cave at a depth of 20 m and a length of 216 km.
      The so-called "castle tourism" is very widespread in Ukraine. On the territory of our country, medieval fortifications are still preserved, such as:
• Old castle in Kamyanets-Podolsk;
• Belgorod-Dnestrovskaya fortress;
• Olesko castle;
• Mukachevo Castle (Palanok) - a unique example of medieval architecture of the XIV - XIII centuries;
• Schönborn Palace, located near the village Chinadievo of the Transcarpathian region and others.
      Traveling in castles means admiring majestic views and wondering at the skill of ancestors, or maybe feel the aura of the past.
Ukraine is a country with a rich history, therefore, the diversity of both natural and man-made monuments, which amaze with their beauty and which will be enough for more than one year of travelling, is not strange. Here you can recuperate, take beautiful photos. We wish you pleasant experiences and interesting travels.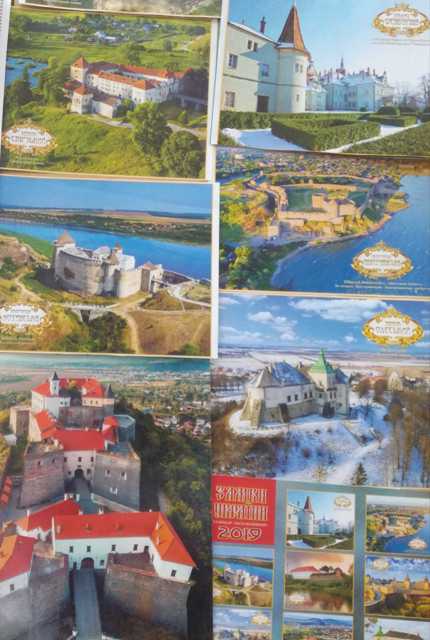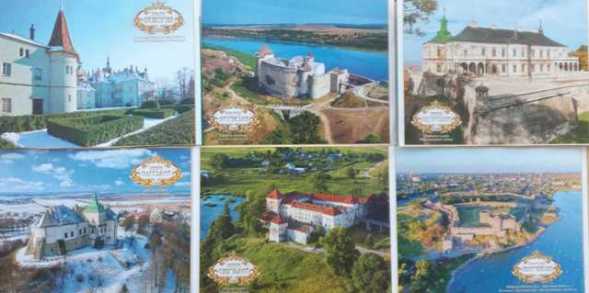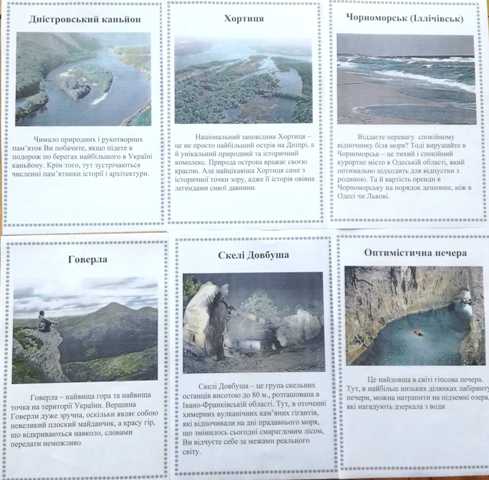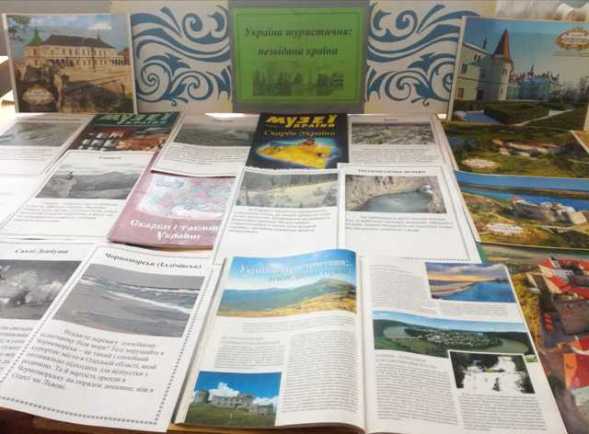 The exhibition and the material were prepared by an librarian of the reading room Syuh O.M.
Виставку і матеріал підготувала співробітник читальної зали Сюх О.М.