27.03.2021_________
The International World Theatre Day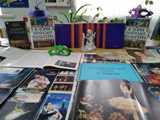 March 27 is the International World Theatre Day established in 1961 on the initiative of the delegates of the Congress IX of the International Institute of Theatre at UNESCO.
This day is traditionally held under the motto "Theatre as a means of mutual understanding and strengthening peace between peoples". It is not only a professional holiday of the masters of scene, but it is a holiday of millions of spectators.
The art of the theatre is multifaceted and varied. It helps mutual understanding and enrichment of the inner world of each person.
Over the centuries this art has changed all the time. Some generations with their ideas about theatrical art changed the other ones, weaving the unique "colors" into picturesque carpet of the history of the theatre.
The word "theatre" is of Greek origin and means the place of spectacle and spectacle itself.
The theatre has an extremely important moral, artistic value, contributes to the formation of the aesthetic taste. It broadens the outlook.
Whether we listen to opera, or enjoy the skill and grace of ballet dancers, or watch the play of dramatic actors with emotional trepidation, we all feel the special atmosphere of holiday, spirituality, and high culture.
For the Theatre Day in the reading room of the social sciences and humanities the librarian if the 1st category Olga Syuh prepared an exhibition-entourage "Theatre is a Holiday", where the users of the library have a good opportunity to feel themselves real actors and take unforgettable photos.
Theatre is a unique artistic mirror of life.
The famous expression by William Shakespeare "The World is a Theatre, and People are Actors in it" characterizes a connection of the theatre with real life in short and the most complete way.
Go to the theatre, if you are sad, or cheerful. If you are successful or unsuccessful now, the theatre will always balance your feelings and emotions, helps you understand reality and evaluate yourself.
The exhibition and materials were prepared by the librarian of the 1st category Olga Syuh.